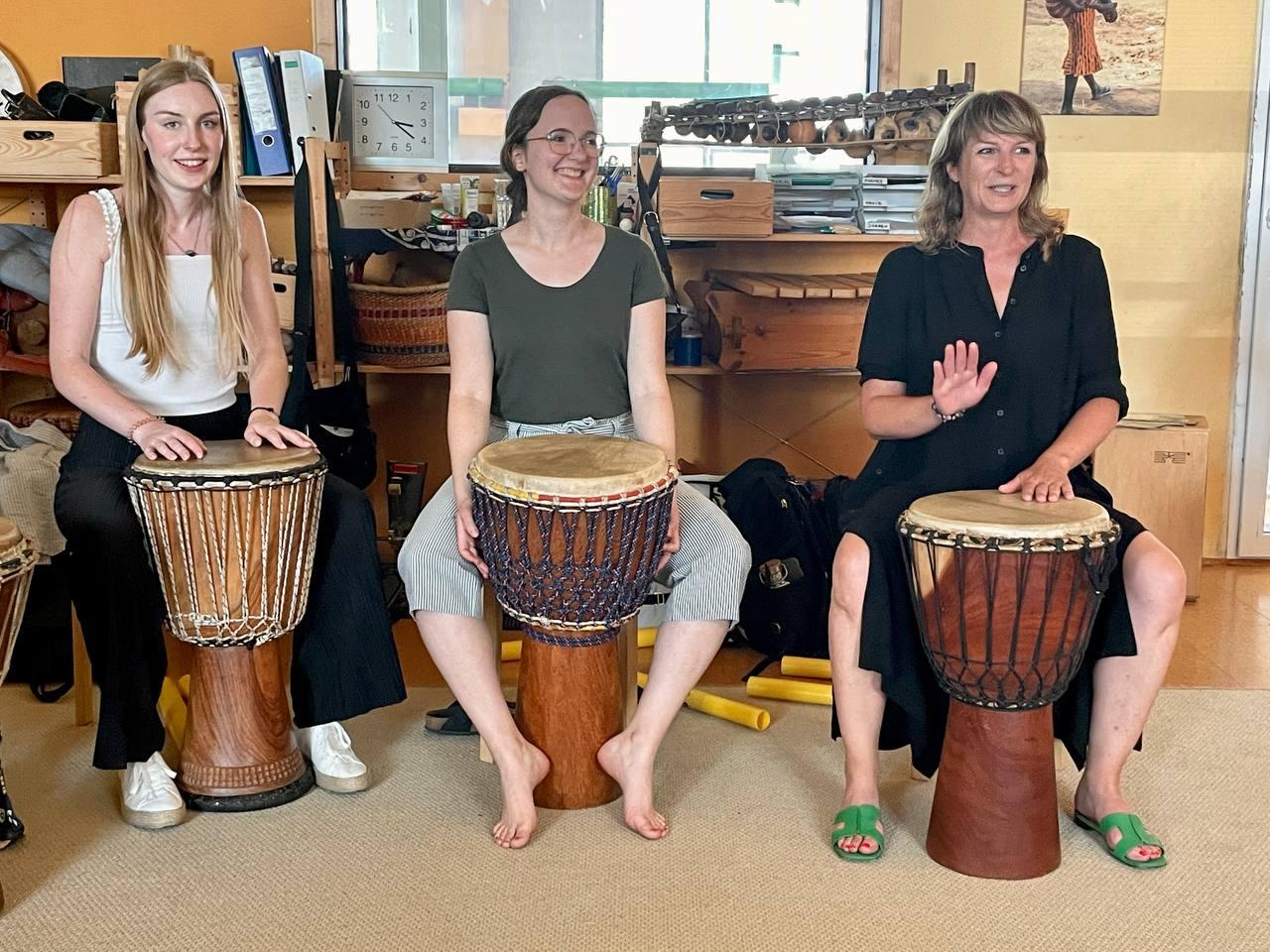 Can you feel the Q rhythm?
Am Freitag hatten wir unser Q Crew Sommerevent. Wie ihr vielleicht schon mitbekommen habt, dreht sich unser Jahres- und Messemotto um Musik. Deswegen lag es nahe, dass bei unserem Ausflug Musik eine wichtige Rolle spielt.
Nach einem gemeinsamen Mittagssnack auf unserer Dachterrasse ging es in den Mannheimer Trommelpalast. Die Q Mafo-Crew wurde zur Q Drum Crew.

Nach ein paar wenigen theoretischen Erläuterungen ließ uns unser Trommellehrer Dirk loslegen, denn Trommeln muss man erleben und spüren.
Wir starteten mit einfachen rhythmischen Übungen, die wir mit Boomwhackers durchführten. Als es dann an die westafrikanischen Djembe-Trommeln ging, gab es kein Halten mehr. Der Raum füllte sich mit einem beeindruckenden Sound-Teppich.
Wir wurden nach einigen Übungssessions in drei Gruppen geteilt und zusätzlich wurde noch ein Shékere, eine Art Rassel aus Muscheln in unsere "Band" eingebaut.
Die zwei Djembe-Gruppen spielten zwei unterschiedliche Rhythmen und hinzu kam noch eine dritte Gruppe, die Dununbas und Sangbans spielten, beeindruckend klingende Basstrommeln.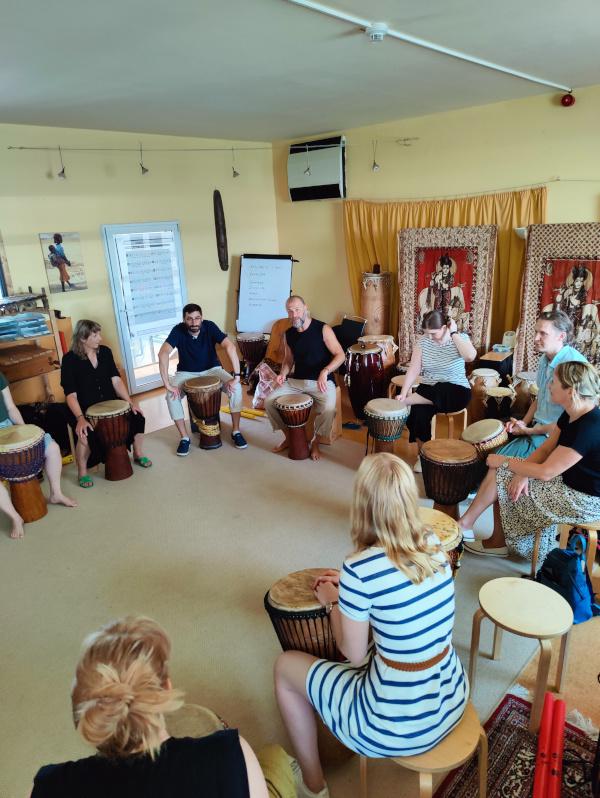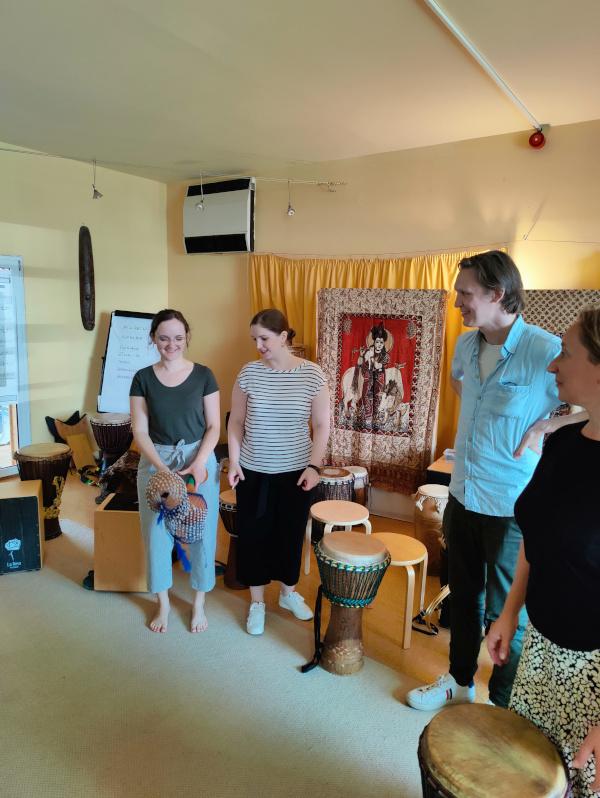 Nein, es war keine Kakofonie, sondern wir haben es geschafft, am Ende des Kurses ein 7-minütiges kleines Konzert zu spielen und man hat gemerkt, wie die gesamte Q Crew in einen gemeinsamen Flow kam.
Aus einzelnen Trommlerinnen und Trommlern wurde eine Gruppe, die sich gegenseitig wahrnimmt und sich aufeinander non-verbal einstellt.
Das war ein großartiges Gefühl, denn wir sind unterschiedliche Menschen mit unterschiedlichen, musikalischen Vorerfahrungen und haben es trotzdem geschafft, zusammen zu grooven.
Witzig war auch zu sehen, dass selbst nach dem Trommelkurs, es uns noch in den Fingern und Händen gejuckt hat. Selbst beim gemeinsamen Apero mit improvisierter Weinprobe im Café Snocks wurde das eine oder andere Mal an der Tischkante getrommelt. Die Temperaturen waren passend dazu afrikanisch.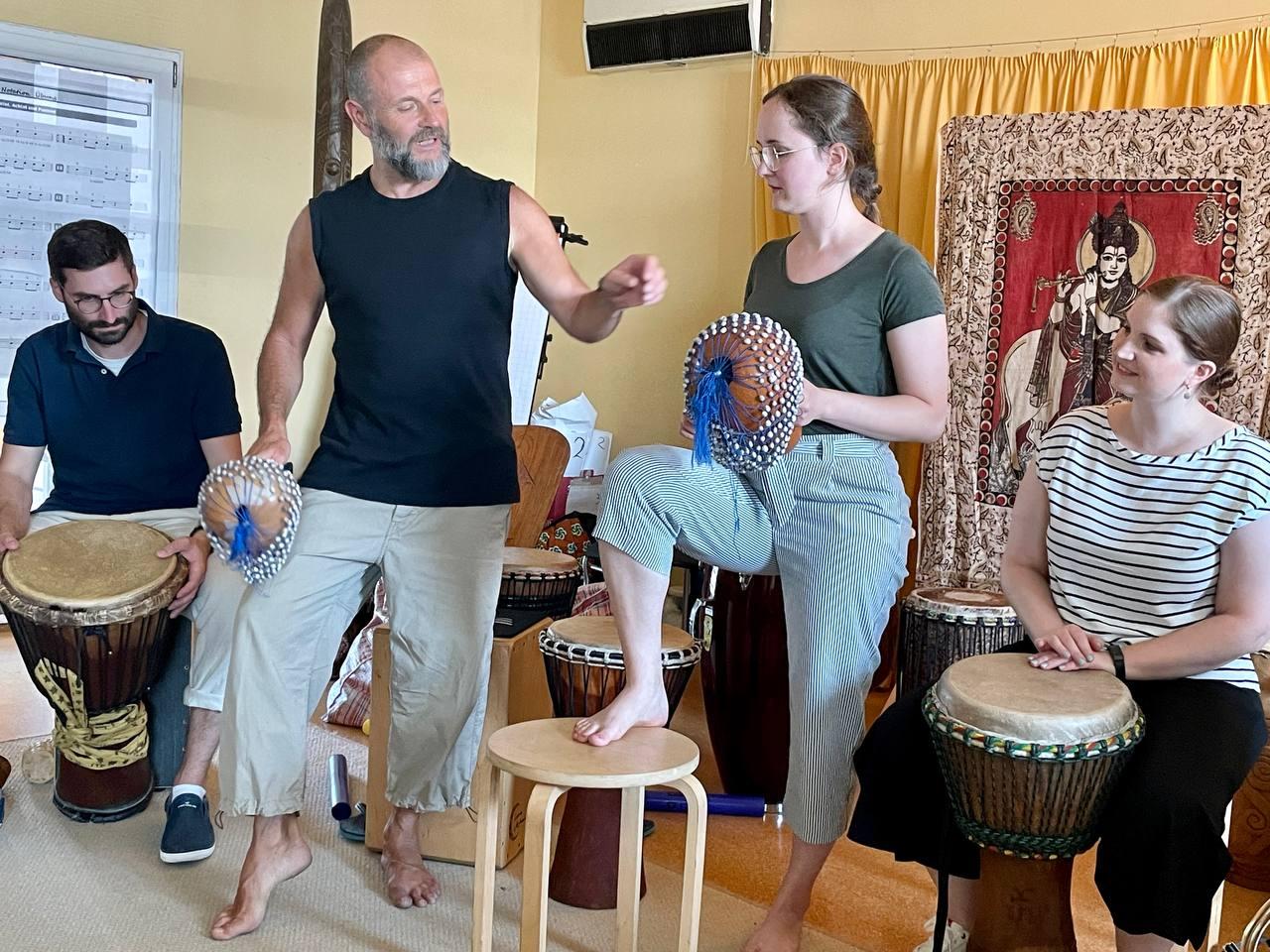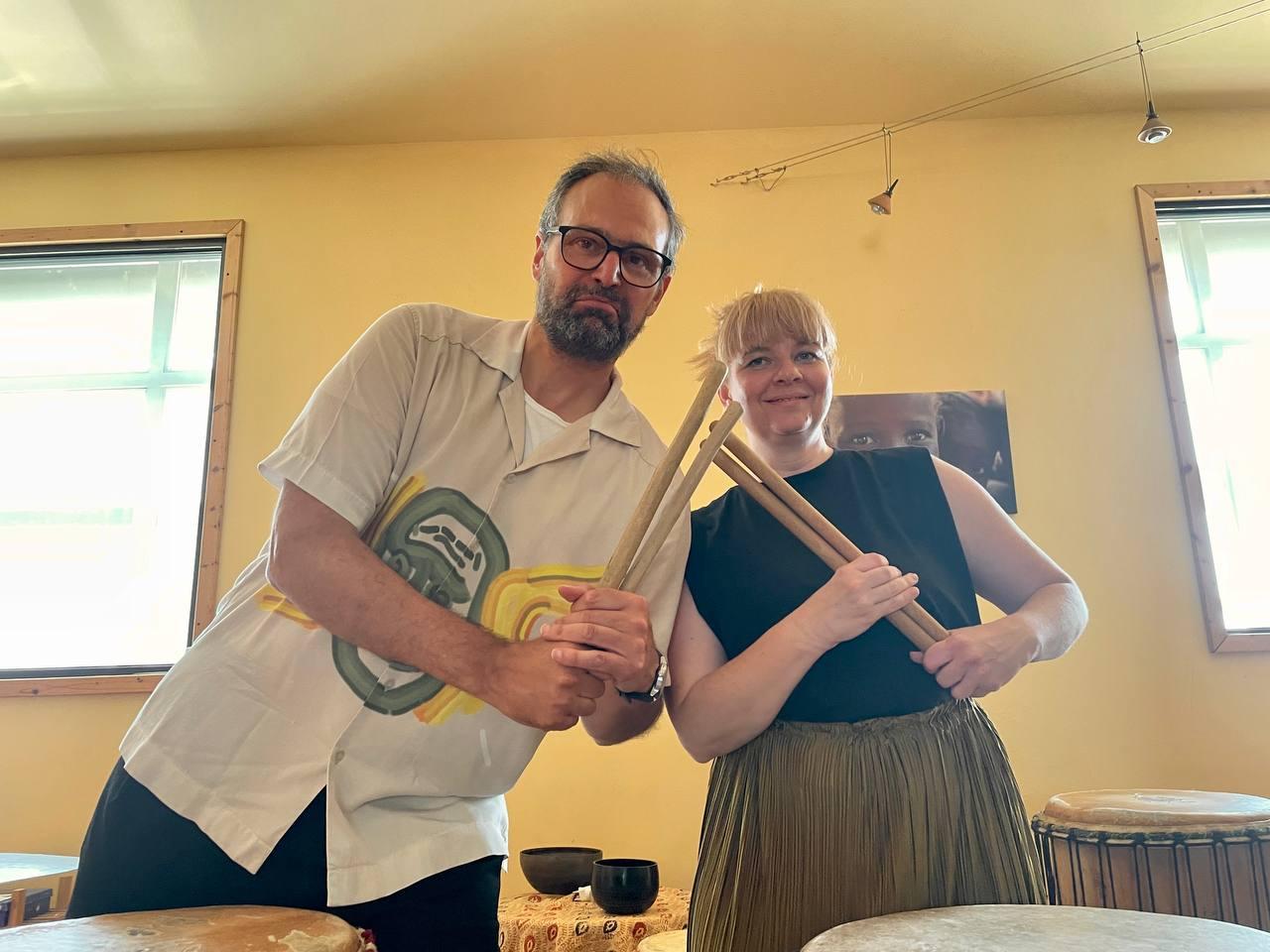 Unsere kleine Afrikareise haben wir mit einem ost-afrikanischen Abendessen abgerundet. Auch hier gab es definitiv neue Sinneserfahrungen zu entdecken, zu schmecken und zu riechen.
Der harte Kern zog noch weiter, darüber legen wir den Mantel des Schweigens. Aus Gründen...
Ein beeindruckender Tag geht zu Ende, der Q Rhythmus bleibt.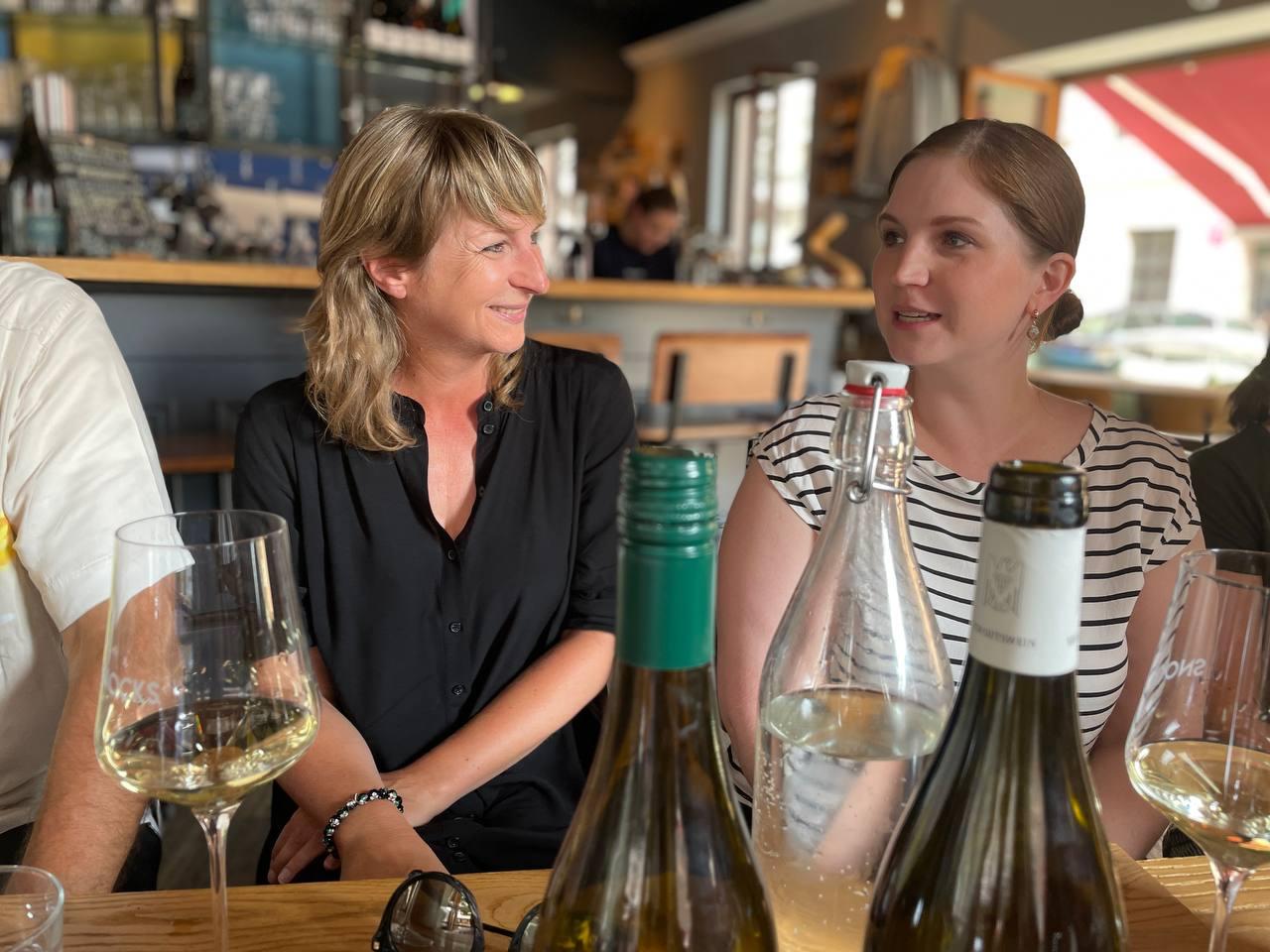 English Version:
On Friday we had our Q Crew summer event. As you may have noticed, our annual and trade fair motto revolves around music. So it was only natural that music should play an important role in our outing.
After a joint lunch snack on our roof terrace, we went to the Mannheim Drum Palace. The Q Mafo crew became the Q Drum Crew.
After a few theoretical explanations, our drum teacher Dirk let us get started, because drumming has to be experienced and felt.

We started with simple rhythmic exercises using boomwhackers. When it came to the West African Djembe drums, there was no stopping us. The room filled with an impressive carpet of sound.
After a few practice sessions, we were divided into three groups and a shékere, a kind of rattle made of shells, was also added to our "band".
The two djembe groups played two different rhythms and were joined by a third group playing dununbas and sangbans, impressive sounding bass drums.

No, it was not a cacophony, and we managed to play a 7-minute little concert at the end of the course and you could feel how the whole Q Crew got into a common flow.
Individual drummers became a group, aware of each other and attuned to each other non-verbally.
That was a great feeling, because we are different people with different, previous musical experiences and still managed to groove together.
It was also funny to see that even after the drum course, our fingers and hands were still itching. Even at the joint aperitif with improvised wine tasting at Café Snocks, there was a drum or two on the edge of the table. The temperatures were suitably African.

We rounded off our little Africa trip with an East African dinner. Again, there were definitely new sensory experiences to discover, taste and smell.
The hard core still moved on, we'll keep quiet about that. For reasons...
An impressive day comes to an end, the Q Rhythm remains.